IMPROVE YOUR FOCUS AND WELLBEING AT YOUR OWN PACE
Animo, one of the many resources included in the SupportLinc program, is an excellent tool to add to your self-care efforts. Learn coping skills and incorporate new strategies help you address stress, depression, anxiety and general emotional fitness in a safe and secure self- guided environment.
To begin, Animo uses a brief emotional fitness survey to identify and understand where you are. Then it suggests modules. Each of these has five short competency- building sessions that include a combination of videos, audio lessons and coursework that are designed to help you foster meaningful and lasting behavior change. After watching a three-minute video, you can begin working on the first session immediately.
In between sessions, you'll receive motivation and assignments to support your progress. Use the personal Emotional Health Tracker to record your day-to-day outlook. You can also find toolkits, tip sheets, guides and even stress-reducing games that improve focus and mental sharpness.
Download The APP Now
Discover your inner strength today by visiting the Animo portal at goanimo.com or download the Animo app from your web portal at peht.mysupportportal.com. Your group code is: PEHT
Please remember, if you need "in-the-moment" assistance, SupportLinc is available 24 hours a day, 365 days a year, by calling (888) 881-LINC (5462).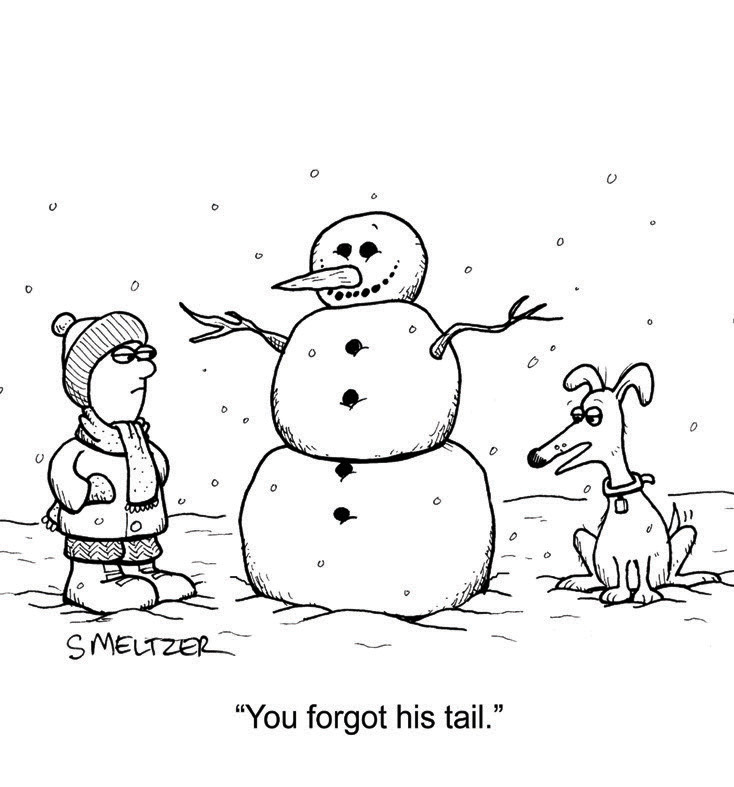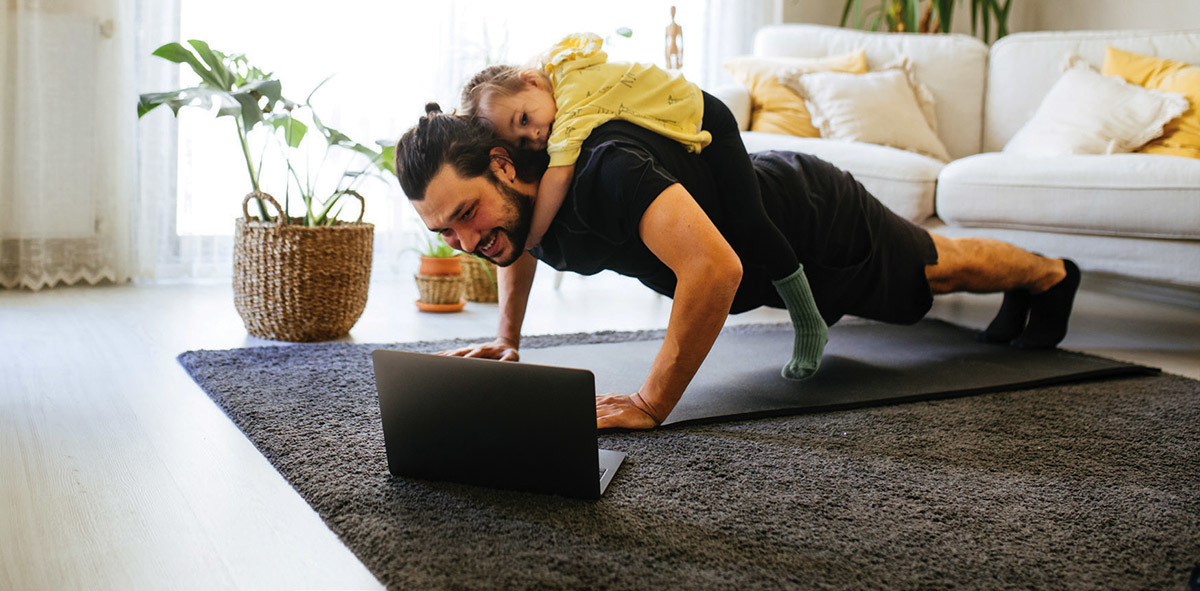 NEW YEAR NEW YOU!
Leave behind the times of forgotten resolutions! Let the Go365 wellness program help you stay on track with your wellness goals throughout the year!
STEP INTO THE NEW YEAR BY TRACKING PHYSICAL ACTIVITY IN GO365
There are a multitude of fitness options that you can take advantage of with Go365, and many will earn you easy points, fast. To take advantage of these point opportunities, you have a couple of options. You can connect a fitness device or app, connect a partner gym or virtual fitness option or take a picture of your at-home workout.
To learn how to connect a fitness device or app, View this PDF file. To connect a partner gym or virtual fitness option, go to Go365.com, sign in, click the "Quick Links" button in the upper right-hand corner, click on "participating fitness facilities", and follow the steps to connect. Lastly, to earn daily fitness points with an at-home workout, just take a picture of your at-home workout and submit it through the Go365 website or mobile app.
Daily fitness can earn you a maximum of 50 points per day. If you've never tracked daily fitness before, you'll get 500 points for the first lifetime verified workout logged. You'll also earn 750 points for logging a verified workout in Go365 for the first time in a program year. That can start you off with 1,250 points!
Depending on what your device or app tracks, you can receive 1 point for every 1,000 steps that you take, 5 points for every 15 minutes above 60 percent of your maximum heart rate, or 5 points per 100 calories you burn if the burn rate exceeds 200 calories per hour or 10 points for partner gyms and at-home workouts. (Go365 will automatically award points for the device/workout with the highest value).*
BONUS: If you exceed 50 workout points in a week, Go365 will give you an additional 50 points that week. Or if you exceed 100 weekly workout points, you'll receive an additional 100 points!
Other options for earning points for physical activity:
Athletic Event – Earn 250 to 500 points for participation in a sponsored Athletic Event of running, walking, cross-country skiing, cycling, or triathlon.
Sports League – Earn 350 points for participating in a sports league.
Challenges – Earn up to 200 points per month for participating in a challenge.
Other ways to kick start your program and get to Bronze:
Complete the Go365 Health Assessment on the Dashboard page of the Go365 website (Go365.com) or the Go365 mobile app**
Complete a biometric screening with your primary care physician. To find more information on completing this log into your Go365 website page and click on 'Activities' -> 'Prevention' -> 'Biometric Screening'.
Have further questions? Check out the Go365 Community Page by visiting humanaservice.force.com/Go365Commercial/s/
Don't miss out on your opportunities to engage in your well-being through the Go365 program!
*You will be awarded for one workout across workout types per day. Whichever workout that will award you the most points across fitness devices/options.
**Adult children are not eligible to earn Points or Bonus Points for Health Assessment completion.
OPTUMRX PHARMACY BENEFITS UPDATES
The new year is bringing some updates to our PEHT OptumRx formulary plans. A formulary is a list of medications covered by a plan. The list includes both generic and brand-name drugs approved by the Food and Drug Administration (FDA) and is broken out into cost levels called tiers. The formulary also identifies certain drugs that have special rules and requirements. These rules include prior authorization, step therapy and quantity limits. When a medication changes tiers, you may have to pay a different amount for that medication.
WHEN DOES THE FORMULARY CHANGE?
Medications may move to a lower tier at any time.
Medications may move to a higher tier when a generic equivalent becomes available.
Medications may move to a higher tier or no longer be covered on January 1 or July 1 of each year.

WHY ARE SOME MEDICATIONS NO LONGER COVERED?

A medication may no longer be covered by your plan when it works the same as, or similar to, another prescription or over-the-counter (OTC) medication.

BRAND OVER GENERIC STRATEGY

Starting January 1, 2022, OptumRx will prefer the brand-name drug over its higher-priced generics for the following medications:
• Advair Diskus • Adderall XR • Apriso • Lialda
The brand-name drug will be placed in tier 1 and the generic equivalent will no longer be covered. You will experience minimal disruption as pharmacists can typically replace the brand for generic without having to consult with your doctor. No dispense as written (DAW) or mandatory generic penalties will be applied when you fill one of the targeted brand-name drugs.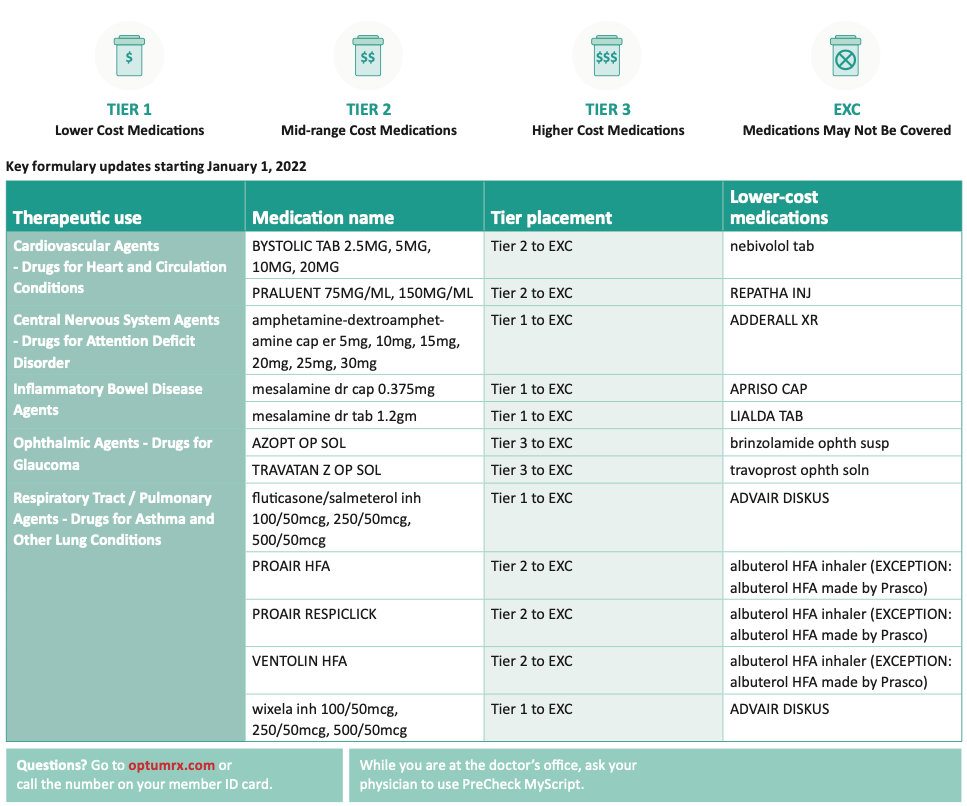 THINK DIFFERENTLY ABOUT NEW YEAR'S RESOLUTIONS
It's a new year. And it's the perfect time for a fresh start and to make some big lifestyle changes, right? Hmmm. Maybe not.
New Year's resolutions are typically personal commitments to changing habits and to understand why so many of these lofty aspirations fail and leave us feeling discouraged or disappointed in ourselves, we should start by thinking about the kinds of things that actually motivate people to change or adopt new habits.
First of all, breaking old and adopting new habits, isn't just about will power. Habits are formed when our brains receive 'a reward' as a consequence of a particular action. This 'reward' can take the form of a positive emotional response, or in the case of some of the more powerful habits (like smoking a cigarette), our bodies reward themselves through built in neurotransmitter systems that light up our brains with dopamine.
On the other hand, many positive habits such as exercise, meditation, focused work and healthy eating don't have immediately obvious rewards, it takes time. Eventually, these activities will all naturally stimulate your brain in positive ways, but these habits need a little bit of help to get started.
Behavioral psychology suggests that a good first step is to start by practicing making new habits by starting small with resolutions that are inherently rewarding and/or actively finding motivating rewards for yourself. For example, you could make a commitment to support a non-profit or a cause that you are passionate about or set a goal to call your grandmother once a week. These things will just make you feel good! Or consider setting 10 minutes a side each morning to clear your mind and meditate and also set the timer on your coffee maker so that you have a freshly brewed cup waiting for you when you're done. Once you start sticking to these resolutions you'll be proud of yourself, which in turn is a reward and reinforces your ability to keep these new positive habits going. Thus, the cycle begins! Once you have the confidence and the practice of setting goals, creating new habits and making them last, you'll be much more successful in making bigger lifestyle changes.
CHECK OUT SOME OTHER GREAT IDEAS TO GET YOU STARTED ON A NEW HABIT BUILDING PATH IN 2022
Commit to reading a for half an hour every night before bed
Replace your first cup of coffee with decaffeinated tea
Track and cut your time spent on social media by an hour a week
Volunteer
Drink more water
Start journaling
Take the stairs
Whatever your goals are, write them down, reward yourself – and if it still doesn't work... that's okay! Try again! Breaking old and adopting new habits takes practice, patience and a lot of grace. So, if all you do this year is to start thinking differently about self-improvement and New Year's resolutions – we commend you! That's progress!
WINTER MONTHS HAVE YOU FEELING DOWN?
---
While the new year is an exciting time to get a fresh start with our goals, it's also that time of year where many of us experience common winter ailments like sore/strep throat, ear infections, nose issues and more.
If you've come across these winter pains, we have you covered. Our medical providers can diagnose and treat your condition so you can get back on your feet. Providence ExpressCare offers convenient, high-quality care you need, every day of the week at locations and hours convenient for your schedule.
Providence ExpressCare can treat the following conditions:
Cold, flu and allergies
Cough, congestion and asthma
COVID-19 symptoms
Cuts and scrapes
Eye,noseandthroatissues,strepthroat
Skinconditions
Sprainsandstrains
Urinary tract infections
EXPRESSCARE LOCATIONS AND HOURS
All ExpressCares are open 7 a.m. to 7 p.m., seven days a week
Providence ExpressCare – Huffman: 1389 Huffman Park Drive, Suite 110, Anchorage, AK 99515
Providence ExpressCare – Midtown Mall: 600 E. Northern Lights., Suite D, Anchorage, AK 99503
Providence ExpressCare – Tikahtnu: 1118 N. Muldoon Road, Anchorage, AK 99504
Providence ExpressCare – Eagle River: 17101 Snowmobile Ln., Suite 114, Eagle River, AK 99577
Providence ExpressCare – Wasilla: 1861 E. Parks Hwy., Wasilla, AK 99654
NEW LOCATION COMING SOON:
• Providence Urgent Care – 1301 Northern Lights, Anchorage, AK 99503
START THE YEAR ON A HEALTHY FOOT, HIP, KNEE OR BACK!
2 PEHT BENEFITS TO HELP YOU FEEL YOUR BEST
Your health is what matters most. That's why the PEHT health plan offers you and your family access to two important benefits to help you live a healthy and pain-free life.
SURGERY CARE WITH BRIDGEHEALTH
Has your doctor recommended surgery? Get top-quality care through BridgeHealth Surgery Care. When you choose Surgery Care, the PEHT health plan pays for the surgery and travel expenses for you and a companion. Most members pay $0!*
Is there really no cost to me? YES, you read that right! Surgery costs are covered at 100% for members and their families enrolled in PEHT health plans.* PEHT pays travel expenses for you and a companion, plus you receive a $750 care allowance after surgery.
High-quality care. Surgery Care's stringent standards for providers and doctors ensure you get the best care. You will be matched with high-quality providers specific to your procedure – members have 80% fewer complications as compared to the national average.
Help every step of the way. Your dedicated Care Coordinator provides concierge support that takes the headaches out of approvals, scheduling, paperwork and travel arrangements.
Surgical procedures offered:
Bariatric
Spine
Cardiac
Women's Health
General
Vascular
Orthopedic
Neurological
Call BridgeHealth Surgery Care at (855) 265-2874 to get started or visit bridgehealth.com.
*On high deductible plans, you must meet your deductible first. After that, your surgery is covered at no additional cost.
VIRTUAL PHYSICAL CARE FOR BACK, JOINT AND MUSCLE PAIN
Not ready for surgery? Get virtual physical care on your terms! Start your journey to living pain free with a virtual physical care program for back, joint and muscle pain that you can do from the comfort of your home, or anywhere. You are paired with a licensed physical therapist who learns about you over a video call and designs a customized program.
You'll then get a Digital Therapist© tablet and motion sensors to track your exercise progress, give feedback and help correct your form in real-time. Your physical therapist supports you every step of the way and even adjusts the program as your needs change, so you get better, faster.
No doctor referral is needed, and the cost of the program is paid by the PEHT health plan. See how it works and register at join.bridgehealth.com/peht/.